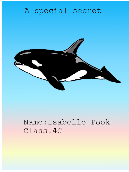 Read Online
A special secret
Average Rating
:
3.8
(

11

votes)
"Wow! Whale watching!" exclaimed Nancy in excitement. Her parents, Mr and Mrs Drew had just told Nancy that they were bringing her whale watching today. As it would be her first time, Nancy was very excited. Nancy quickly ran towards her bedroom, packing into a small backpack what she would need- her waterbottle, camera, notebook and writing material.
http://v.koobits.com/1kd8lwyidf4p
Copy the book address above and add to your e-library!