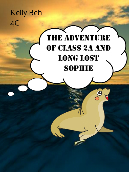 Read Online
The Adventure of Class 2A and Long Lost Sophie
Average Rating
:
4.7
(

12

votes)
" Good morning class!" Miss Grace exclaimed in a cheery tone.
" Does anyone want to do something apart from sitting here in this cluastrophobic classroom, listening to me teaching you about endangered animals today?"
Without hesitation, everyone raised their hands high up in the air, showing their agreement.
http://v.koobits.com/1kd83w-5ph4p
Copy the book address above and add to your e-library!