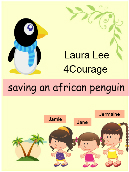 Read Online
Saving an African penguin
Average Rating
:
5
(

3

votes)
It was the holidays. Jermaine,the oldest out of the three had read on the internet that africa was a amusing place to go. the three girls loved helping animals and africa was a world of them.
http://v.koobits.com/1kd8lwpe8z4p
Copy the book address above and add to your e-library!