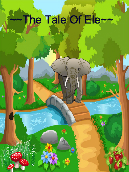 Read Online
The Tale Of Ele
Average Rating
:
3.5
(

4

votes)
It was a sunny afternoon, Ele was having a stroll in the forest with her family. It was Ele's favourite time of the day. She loves to be with her family after doing all the tiring chores. It was a great time to relax and enjoy the fresh air with them!
http://v.koobits.com/1kd8ur4x9g4p
Copy the book address above and add to your e-library!