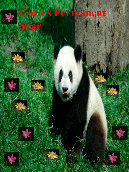 Read Online
Coco's Permanent Scar
Average Rating
:
0
(

0

votes)
Coco and his family lived in a forest known as The Fruits Bearing Forest . Coco was a very adorable and playful panda . After, pandas were white in colour. Every morning , he and his family would make a trip around the forest to find all sorts of fruits and bamboo to fill their stomach for the day .
http://v.koobits.com/1kd8f24ohs4p
Copy the book address above and add to your e-library!