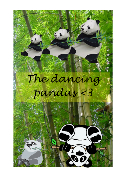 Read Online
The dancing pandas
Average Rating
:
0
(

0

votes)
One hot and sunny day , there were three pandas , kai kai , Kou Kou and Ling Ling , of which Kai Kai and Kou Kou were male and xing xing was female. They were being shipped out on a boat from Sichuan province in China to Singapore. The pandas were very sad as they would miss home, their friends and family and the sweet , succulent bamboo leaves from Sichuan they would not be able to get in Singapore.
http://v.koobits.com/1kd87yia1c4p
Copy the book address above and add to your e-library!