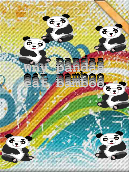 Read Online
Why Pandas Eat Bamboo
Average Rating
:
0
(

0

votes)
It was a dark, snowing night. All the animals were asleep except for one, who was Penny and her sister, Peppy the princess pandas. They were busy eating a buttered-coloured peach each and drinking peach tea to keep warm.
http://v.koobits.com/1kd8wps1dz4p
Copy the book address above and add to your e-library!