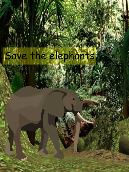 Read Online
Save the Elephants
Average Rating
:
0
(

0

votes)
Long ago, on the island known as Animalia, there lived a young elephant named Mali. She lived with a friendly herd of elephants who always had one another's back.
One day, Father had gone out with Uncle to get water for the herd. A few minutes passed before Mali heard a frantic trumpet which the herd only used if they are in trouble, then another one, that sounded like Uncle's.
http://v.koobits.com/1kd8-pemkf4p
Copy the book address above and add to your e-library!