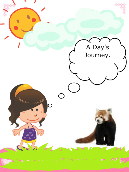 Read Online
A Day's Journey – The Red Panda
Average Rating
:
0
(

0

votes)
The rain poured down heavily outside the apartment which Gale was staying in in China. She had just woken up and got ready to go on another journey. She ate her breakfast quickly and picked up her backpack with all her things.
Gale was a backpacker from America and she travelled all the way to China. She had been backpacking for years and travelled over many countries.
http://v.koobits.com/1kd83c_jb14p
Copy the book address above and add to your e-library!