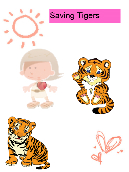 Read Online
Saving Tigers
Average Rating
:
0
(

0

votes)
Once apon a time, there lived a friendly tiger named Stripes. He lived near the pond on an mysterious island called "Nothing There". He had many siblings that he loved very much especially his younger brother Sambo. Everyday, Stripes and Sambo would go out to the pond and play. They always have a great time playing but this time they were not so lucky…
http://v.koobits.com/1kd8-_x9g14p
Copy the book address above and add to your e-library!