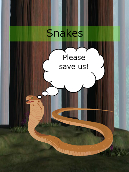 Read Online
Snakes
Average Rating
:
4.3
(

5

votes)
One day, after Emily read a book about snakes, she went to her younger sister, Ashley. "Ashley, do you know that snakes are endangered because hunters kill them for their skin!" Emily exclaimed. Emily was a animal lover and she simply could not understand why man killed snakes for their skin. They did not deserve such suffering.
http://v.koobits.com/1kd874j9sm4p
Copy the book address above and add to your e-library!