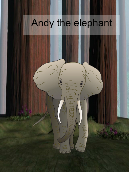 Read Online
Andy the Elephant
Average Rating
:
2.6
(

2

votes)
Once upon a time, there lived an elephant by the name of "Andy". Andy lived in a village called" Ellie's village. Andy was a kind hearted elephant and loved helping other elephants when they were in need. The village's elephants were all also very kind to each other. But their happiness did not last for long…
http://v.koobits.com/1kd8c_jsa84p
Copy the book address above and add to your e-library!