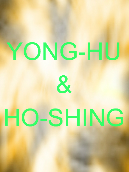 Read Online
Yong-Hu & Ho-Shing
Average Rating
:
0
(

0

votes)
Deep in the bamboo forests of China lived two pandas, Yong-Hu and Ho-Shing. Yong-Hu was rather plump, had black ears, legs and arms, and two large patches around his golden eyes. Ho-Shing looked much the same but not as chubby as Yong-Hu. Yong-Hu spent most of his daysaitting among the bamboo eating. Ho-Shing, though he liked to eat, was more of a daydreamer. He would watch the clouds for hours as they floated lazily across the sky. He enjoyed looking at the flowers. Nothing pleased him more than to be able to sniff them and inhale their fragrance. Tall mountains stood proudly around the bamboo forest. They seemed to be reaching for the sky.
http://v.koobits.com/1kd8wyhvfw4p
Copy the book address above and add to your e-library!