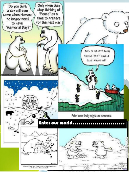 Read Online
Endangered
Average Rating
:
0
(

0

votes)
I woke up, remembering what thoses horrible humans did to my family a few years ago. Now, I was all alone. Hoping that the trip I was about to take would be worthy, I streched and walked on thin and thick peices of ice, swam in the cold, freezing water.
http://v.koobits.com/1kd8zr9ba84p
Copy the book address above and add to your e-library!