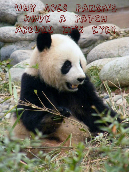 Read Online
Why does panda have a patch around its eyes?
Average Rating
:
0
(

0

votes)
Once upon a time there lived a hunter named Cayden. He likes to bully animals espically Pandas! He goes there thrice a week. On Monday, Wednesday and on Friday
http://v.koobits.com/1kd8wyemkf4p
Copy the book address above and add to your e-library!