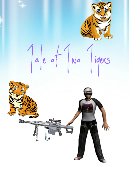 Read Online
The Tale of Two Tigers
Average Rating
:
2.7
(

4

votes)
It had been three years since mother died, my brother,Konan, and I live in a cave, far from the spot our mother was shot by those hateful hunters. She had barely gone out of our territory when we heard a loud bang, next thing we knew mother was lying lifeless on the ground, surrounded by a pool of red,hot blood.
http://v.koobits.com/1kd8wyqea84p
Copy the book address above and add to your e-library!