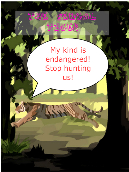 Read Online
The Bengal Tiger
Average Rating
:
5
(

5

votes)
Once upon a time,there lived a female bengal tiger,Tigress,and her daugter, Melody. One day,Tigress and Melody were taking a walk.Suddenly,a hunter named Mike threw a net to capture Tigress.Tigress got entangled in the net.
http://v.koobits.com/1kd82wp9iv4p
Copy the book address above and add to your e-library!