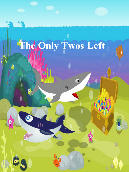 Read Online
The Only Twos Left
Average Rating
:
0.1
(

1

votes)
Deep down in the ocean, there lived only TWO sharks. They always felt very lonely as all their friends had been captured by fishermen for their fins. They were lonely as they had no friends to play with. Every day, they wished for more sharks to play with, but to no avail.
http://v.koobits.com/1kd876oga84p
Copy the book address above and add to your e-library!