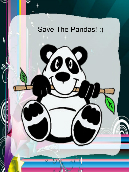 Read Online
Save the pandas!
Average Rating
:
4.7
(

1

votes)
Once upon a time, there lived a baby panda called Bubby. He was chubby and he loved to eat . Everyday, his family would go deep into the forest to eat bamboo. One day, the panda family was happily munching on some bamboo when they heard a thunderous " thump". The panda family jumped in fright.
http://v.koobits.com/1kd8z_jism4p
Copy the book address above and add to your e-library!