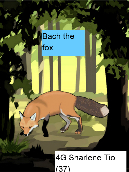 Read Online
Bach the fox
Average Rating
:
4.8
(

1

votes)
Once there was an old lady and her fox, Bach. The old woman thought that she could not take care of Bach anymore as she was very old,so she decided to set him free.
http://v.koobits.com/1kd874qvm34p
Copy the book address above and add to your e-library!