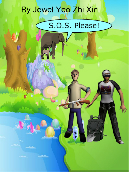 Read Online
S.O.S. Please!
Average Rating
:
4.7
(

1

votes)
One day, Edward, the elephant, was taking his usual stroll in the forest. As he was taking in the beautiful scenery, he heard a loud sob behind a tree. He decided to have a look.
http://v.koobits.com/1kd8w49ba84p
Copy the book address above and add to your e-library!