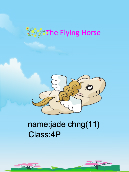 Read Online
The Flying Horse
Average Rating
:
0
(

0

votes)
Once upon a time, there lived a horse mother and father. They gave birth to three little children, one was called Oliver the second one is called Lizzy and the youngest was called pegasus.
http://v.koobits.com/1kd8zl5hqb4p
Copy the book address above and add to your e-library!