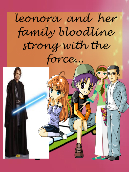 Read Online
Leonora and her family bloodline strong with the force
Average Rating
:
3.6
(

9

votes)
There lived a couple named Leia and Luke. They lived in a very small house at tatooine. They had a daughter named Leonora she was only 2 months old.Leia and Luke were very sad as they heard that an evil God is going to kill them soon, but Leonora will survive.If they die, Leonora will have no friends, family nor education.
http://v.koobits.com/1kd8clnt9g4p
Copy the book address above and add to your e-library!