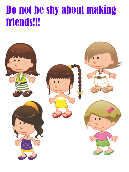 Read Online
Do not be shy about making friends
Average Rating
:
3.4
(

5

votes)
Once upon a time there live five good friends call Isabella, Lia,Jade Nicole and Jing Zhi. They all went to the same school. Their teacher, Mrs Wee ask the children to line up singer file so she could take attendence.
http://v.koobits.com/1kd8wuosgk4p
Copy the book address above and add to your e-library!