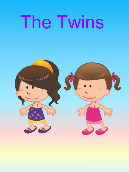 Read Online
The Twins
Average Rating
:
3.7
(

3

votes)
One day, Jade and Lia was playing with their pet dog, Susy in the garden behind their home as usual. One day… their father Mr Lim came home early. Lia and Jade were curious so they ask their father what had happened.
http://v.koobits.com/1kd8-ytbd24p
Copy the book address above and add to your e-library!