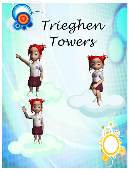 Read Online
Trieghen Towers
Average Rating
:
2.9
(

4

votes)
"Hi Jing! Had good hols?"It was back to school day as the holidays were over. "My hols were just fine! yours?" "Smashing!" cried Lia and Jade at the same time. "We better make a move before any mistresses shooes us in!" said Jing Zhi. So in they went. And what a racket it was inside! They were going to have some fun this term at Trieghen Towers their boarding school.
http://v.koobits.com/1kd8cnxe824p
Copy the book address above and add to your e-library!