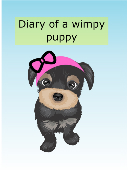 Read Online
Diary of a wimpy puppy
Average Rating
:
3.5
(

6

votes)
I am a yorkie puppy, Jamie. I have a twin brother named James and an older sister named Jemima. Life was sort'a good for us, dogs. One day, James ran away and got lost. A witch had caught him and shut him in a cage.
http://v.koobits.com/1kd8-n4ohs4p
Copy the book address above and add to your e-library!