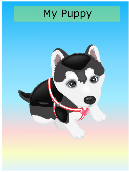 Read Online
My Puppy
Average Rating
:
4.8
(

2

votes)
Whenever I asked my Mum for a puppy, she would always say no. She thinks I am not responsible enough
but that is not true at all! The truth is some grownups are naggy and would say,"Why are you playing with that dog again? Go and do your homework now!
http://v.koobits.com/1kd8f-nxg14p
Copy the book address above and add to your e-library!