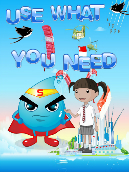 Read Online
Use What You Need
Average Rating
:
3.5
(

8

votes)
Samantha could not believe it! For the past 2 days, everyone around were talking about using water wisely. In the class, her teacher was explaining that water is a precious resource, especially in Singapore.
Yesterday, she came across an article with a headline, "Singaporeans should play a part to conserve water
http://v.koobits.com/1kd8u4jeb84p
Copy the book address above and add to your e-library!