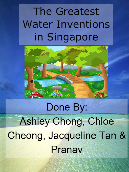 Read Online
The Greatest Water Inventions in Singapore
Average Rating
:
5
(

1

votes)
Professor Bizoby unconsciously loved to waste water. He enjoyed bathing for more than 30 minutes everyday.
One day, as Professor Bizoby was taking his 30-minute bath, he fell asleep while soaking in the bathtub. Soon,he saw himself entering a dream. He dreamt that he invented a time machine that brought him back to time, 1963.
http://v.koobits.com/1kd8furhim4p
Copy the book address above and add to your e-library!