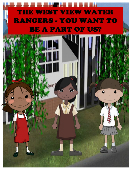 Read Online
The West View Water Rangers
Average Rating
:
3.8
(

3

votes)
Wafa and Jerrine were walking home from school. " Firshah is really getting on my nerves these days!", complained Wafa, staring at the ground angrily.
" Yeah! She and her pollution guide book!, Jerrine exclaimed tiredly.
http://v.koobits.com/1kd8z-psv34p
Copy the book address above and add to your e-library!