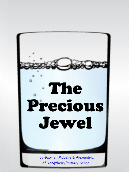 Read Online
The Precious Jewel
Average Rating
:
3.5
(

5

votes)
"Hi everyone, my name is Sally. I love to go for afternoon stroll at the nearby reservoir in the area that I live in. I just love the smell of fresh air!"
"On top of that, I love to look at the water in the reservoir and always reflected on the topic of water cycle taught during science lesson in school."
http://v.koobits.com/1kd8uyoj9v4p
Copy the book address above and add to your e-library!