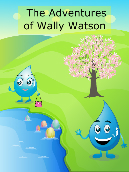 Read Online
The Adventures of Wally Watson
Average Rating
:
4
(

1

votes)
"Happy birthday,my dear son," greeted Mrs Watson to her oldest son, Wally.
"You have turned 18 and now it's time for you to leave our beautiful home, MacRitchie Reservoir, to go on a journey to explore the world."
On the day of the departure, Wally took the MRT to Yishun to visit his grandmother.
http://v.koobits.com/1kd876osv34p
Copy the book address above and add to your e-library!