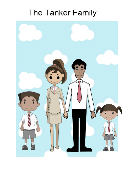 Read Online
The Tanker Family
Average Rating
:
3
(

4

votes)
Once upon a time in a land with sufficient water source there lived a very rich family. Everything was at their fingertips. They took advantage of this. They would take everything for granted.
As in water, they would spend about an hour in the shower, they would leave the tap running when it wasn
http://v.koobits.com/1kd8fl46je4p
Copy the book address above and add to your e-library!