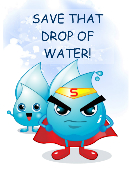 Read Online
Save that Drop of Water!
Average Rating
:
0
(

0

votes)
The rich lee family had the least worries. They can afford anything from expensive house, posh car and even the most expensive utilities bill. They alway wasted water.
Lulu always leave the tap running while soaping. Bob also leaves the tap running when he is brushing his teeth.
http://v.koobits.com/1kd8zr46je4p
Copy the book address above and add to your e-library!