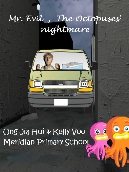 Read Online
Mr Evil, The Octopuses' Nightmare
Average Rating
:
3.7
(

26

votes)
Odie and Penny are orange and pink octopuses. They are the best of friends and they live in an aquarium together since they were young. The duo were caught from the sea and put into the aquarium by a man called Mr. Evil.
One fateful day, Mr. Evil grabbed Penny. Mr. Evil weighed her on a scale and put her in a container. Odie was petrified and stared in horror. He knew that his best friend was going to be sold and served as dinner to a hungry customer ! He had to do something about it. He decided to chase after them.
http://v.koobits.com/1kd8fn4tsv4p
Copy the book address above and add to your e-library!