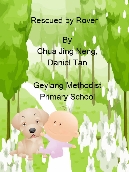 Read Online
Rescued by Rover
Average Rating
:
5
(

1

votes)
One lovely evening, Henry and Helen took their baby to a luscious park for a walk. An old lady who was along the path way was begging the mother for money. Helen ignored her and continued walking. The old lady clenched her fists in anger vowing vengeance. She decided to follow them secretly.
http://v.koobits.com/1kd8z_xqsv4p
Copy the book address above and add to your e-library!