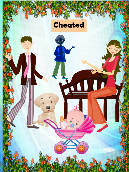 Read Online
Cheated
Average Rating
:
4.4
(

9

votes)
One fine day at the park, Mother was cooing Baby Anna with continuous effort, while pushing the baby pram with great care. It was a lovely afternoon. Golden magnolia clouds encouraged her to go for a stroll in the park.
Out of the blue, an old haggard woman staggered towards Mother. She was a pitiful sight! Torn and tattered worned-out clothes adorned her, wisps of grey hair encircled her forehead. She reached out with a bowl in her hands, begging Mother for single alms. Horrified and disgusted by the sight of an old haggard woman, Mother arrogantly brushed past her, pretending not to see her.
http://v.koobits.com/1kd8l-yqak4p
Copy the book address above and add to your e-library!