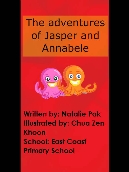 Read Online
The Adventures of Jasper and Annabele
Average Rating
:
2.8
(

1

votes)
Annabele and Jasper are childhood lovers. They lived with each other in a fish bowl eveyday. As they were with each other, they love each other even more. One day, Jasper proposed to Annabele.
Before Annabele got to reply Jasper, the fishmonger grabbed her out of the fish bowl, as he decided to her to a Japanese restaurant. He weighed Annabele, then placed her in a container filled with water.
http://v.koobits.com/1kd8u5hmc24p
Copy the book address above and add to your e-library!