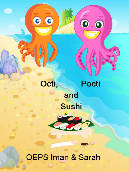 Read Online
Octi, Pocti and Sushi
Average Rating
:
0.1
(

1

votes)
Once upon a time, there lived two lovers, Octi and Pocti. They lived a happy life in their tank. Suddenly, an unknown yellow hand grabbed Pocti out of the tank. The two octopi were very shocked.
http://v.koobits.com/1kd83_njeb4p
Copy the book address above and add to your e-library!