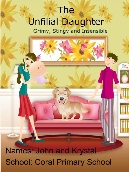 Read Online
The Unfilial Daughter
Average Rating
:
3.8
(

14

votes)
The tranquility of the surroundings engulfed me thus sinking me into sweet dreams as I buried my head onto my pillow. Suddenly, I was disturbed by an
old memory which has been
haunting me for five years..
…The Death Of My Mother!
http://v.koobits.com/1kd8flr9bm4p
Copy the book address above and add to your e-library!