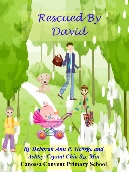 Read Online
Rescued by David
Average Rating
:
0.2
(

1

votes)
One fine afternoon, Selina brought baby Lyn to the park for a walk. "It is a nice and wonderful day for a walk," said Selina. Just as she was about to pick up a toy that had fallen out from the pram, David, Selina's husband appeared out of nowhere and greeted her. Selina was surprised to see him there. With a smile on her face, she turned around to greet him.
http://v.koobits.com/1kd8fnta3z4p
Copy the book address above and add to your e-library!