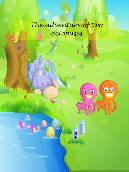 Read Online
The adventure of two octopuses
Average Rating
:
0
(

0

votes)
Once upon a time, there lived two octopuses in a well-groomed fish tank.The purple and the orange octopuses were named Chun Yue and Xian Yao respectively. They were siblings and loved each other dearly.
One fateful day, the worker from the factory took Chun Yue away from Xian Yao and he was heartbroken.He felt as if a thousand arrows had been shot through his heart and the pain in his heart was excruciating.
http://v.koobits.com/1kd8u6q1z74p
Copy the book address above and add to your e-library!