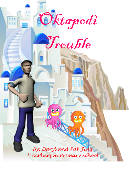 Read Online
Oktapodi Trouble
Average Rating
:
2.7
(

7

votes)
Long long time ago,there lived two octopuses, Polly and Oktapodi. They lived in a fish bowl and they were someone's pets. One day, the owner had to move house. Unfortunately, Polly and Oktapodi were left behind in a dark alley unintentionally. They were devastated.
http://v.koobits.com/1kd87wpe184p
Copy the book address above and add to your e-library!