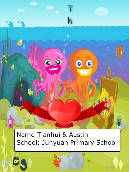 Read Online
The Love Story of Oktapodi and Okkapody
Average Rating
:
2.5
(

3

votes)
Once upon a time, there were two happy Octopuses living in a big tank in the kitchen. One named Okkapody and the other named Oktapodi. A dark shadow loomed over the tank. Suddenly, a big hand sank into the water and grabbed Okkapody! Oktapodi tried to save her but he was too late. Okkapody was captured.
http://v.koobits.com/1kd8wy9mfl4p
Copy the book address above and add to your e-library!