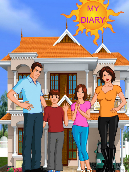 Read Online
My Diary
Average Rating
:
4
(

1

votes)
They are my parents. My father named Anthony, and mother named Sally. My father worked in an importing company, and my mother is a private bank accounting. They are so disciplined in educating their children, so it will get used to grow up. I'm proud to have parents like them.
http://v.koobits.com/1kd82rtsgd4p
Copy the book address above and add to your e-library!