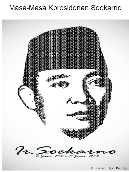 Read Online
Masa-masa Kepresidanan Soekarno
Average Rating
:
0
(

0

votes)
Semasa menjabat sebagai presiden, ada beberapa karya arsitektur yang dipengaruhi atau dicetuskan oleh Soekarno. Juga perjalanan secara maraton dari bulan Mei sampai Juli pada tahun 1956 ke negara-negara Amerika Serikat, Kanada, Italia, Jerman Barat, dan Swiss. Membuat cakrawala alam pikir Soekarno semakin kaya dalam menata Indonesia secara holistik dan menampilkannya sebagai negara yang baru merdeka.
http://v.koobits.com/1kd8wu5xtg4p
Copy the book address above and add to your e-library!