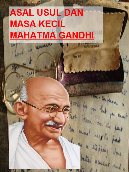 Read Online
MAHATMA GANDHI – ASAL USUL DAN MASA KECIL
Average Rating
:
0
(

0

votes)
Halo, anak – anak. Bagaimana kabar kalian? Pasti baik – baik saja kan. Langsung saja, kali ini kita akan membahas materi tentang Mahatma Gandhi. Berawal dari Asal Usul dan Masa Kecil Mahatma Gandhi. Simaklah dengan seksama!
http://v.koobits.com/1kd8cnoesk4p
Copy the book address above and add to your e-library!