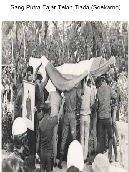 Read Online
Prosesi Pemakaman Soekarno
Average Rating
:
0
(

0

votes)
Kesehatan Soekarno sudah mulai menurun sejak bulan Agustus 1965.Sebelumnya, ia telah dinyatakan mengidap gangguan ginjal dan pernah menjalani perawatan di Wina, Austria tahun 1961 dan 1964.Prof. Dr. K. Fellinger dari Fakultas Kedokteran Universitas Wina menyarankan agar ginjal kiri Soekarno diangkat tetapi ia menolaknya dan lebih memilih pengobatan tradisional. Ia masih bertahan selama 5 tahun sebelum akhirnya meninggal pada hari Minggu, 21 Juni 1970 di RSPAD (Rumah Sakit Pusat Angkatan Darat) Gatot Subroto, Jakarta dengan status sebagai tahanan politik. Jenazah Soekarno pun dipindahkan dari RSPAD ke Wisma Yasso yang dimiliki oleh Ratna Sari Dewi.
http://v.koobits.com/1kd8cntbv34p
Copy the book address above and add to your e-library!