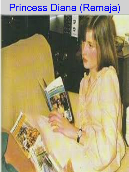 Read Online
Princes Diana
Average Rating
:
0
(

0

votes)
Setelah perceraian orang tuanya, Diana dibesarkan oleh ayahnya. Dengan kematiannya di sebelah ayah, Albert Spencer pada 1975, Ayah Diana menjadi Earl Spencer ke-8 dan Diana diberi gelar Lady Diana Spencer dan berpindah rumah ketika ia masih menjadi anak-anak di Park House ke rumah keluarga besar mereka di Althorp. Setahun kemudian, ayahnya menikah dengan Raine, Countess Dartmouth, anak perempuan novelis romantis, Barbara Cartland.
http://v.koobits.com/1kd8l-_nrx4p
Copy the book address above and add to your e-library!